At Inline Plastics, Inc, we specialize in the design and manufacture of custom plastic profiles. Plastic profiles are produced by heating and melting raw plastic and extruding the softened or molten material through an extrusion die. As the material exits the die, it retains the shape of the die opening across its length. The end result can serve as a complete product or a component of a product assembly.
Need custom plastic profiles for your next project? Read on to learn about our custom plastic profile capabilities.
Plastic Profile Shapes
We can design and manufacture custom profiles in a variety of shapes, including the following:
Open profiles. Open profiles have one or more open ends/sides (e.g., channels).
Enclosed profiles. Enclosed profiles have one or more cavities with no open ends/sides.
Tube and rod profiles. Tube and rod profiles are cylindrical pieces. Typically, tube profiles are hollow, while rod profiles are solid.
Flat profiles. Flat profiles are thin with level surfaces on all sides (e.g., straps or strips).
Plastic Profile Materials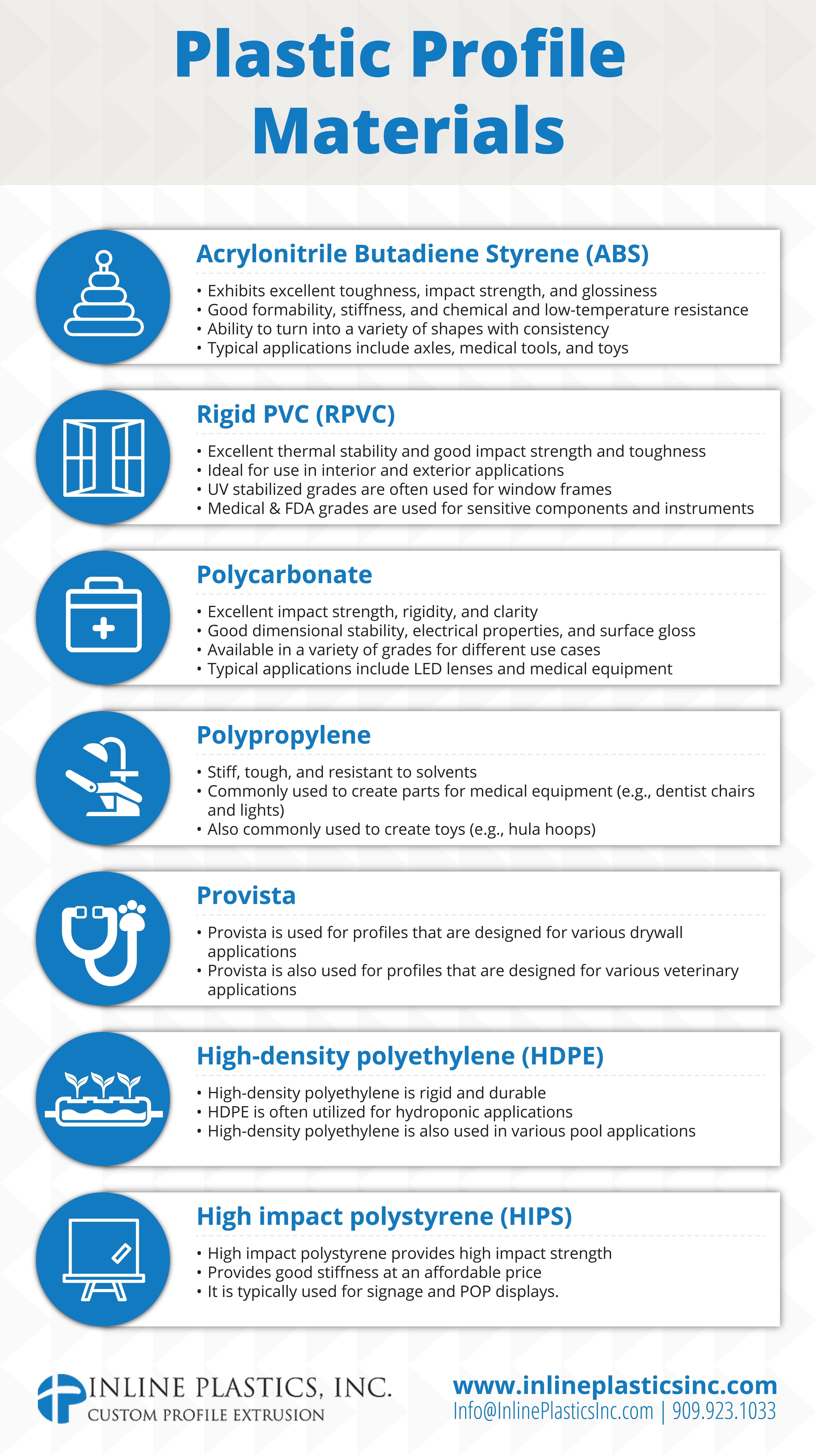 Click to Enlarge
Our custom profiles can be made from a wide range of plastic materials to suit different customer needs. Some of the materials we regularly use in our custom profiles include:
Acrylonitrile Butadiene Styrene (ABS). ABS exhibits excellent toughness, impact strength, and glossiness and good formability, stiffness, and chemical and low-temperature resistance. Additionally, it has the ability to turn into a variety of shapes with consistency. Typical applications include axles, medical tools, and toys.
Rigid PVC (RPVC). RPVC demonstrates excellent thermal stability and good impact strength and toughness. These qualities make it ideal for use in interior and exterior applications. UV stabilized grades are often used for window frames, medical and FDA grades are used for sensitive components and instruments, and impact-modified grades are used for recreational equipment (e.g., goal posts and yachts).
Polycarbonate. Polycarbonate has excellent impact strength, rigidity, and clarity and good dimensional stability, electrical properties, and surface gloss. It is available in a variety of grades for different use cases. Typical applications include LED lenses and medical equipment.
Polypropylene. Polypropylene is stiff, tough, and resistant to solvents. It is commonly used to create parts for medical equipment (e.g., dentist chairs and lights) and toys (e.g., hula hoops).
Provista. Provista is used for profiles designed for drywall to veterinary applications.
High-density polyethylene (HDPE). HDPE is rigid and durable. It is often utilized for hydroponic and pool applications.
High impact polystyrene (HIPS). HIPS provides high impact strength and good stiffness at an affordable price. It is typically used for signage and POP displays.
For industries with regulations surrounding the use of plastic parts and products, we offer a selection of specialty materials, such as:
FDA certified
RoHS approved
Class VI radiation sterilizable
NSF approved
UL compliant
Plastic Profile Capabilities
Plastic extrusion is a highly versatile manufacturing process. It can take a variety of plastics and turn them into a wide range of parts and products.
Our plastic extrusion facility is outfitted with anti-static, co-extrusion, foamed profile, and single-screw processing technology. This equipment enables us to create small to large profiles in various shapes, sizes, and quantities. Our plastic extrusion capabilities include:
Profile shape: enclosed, open, hollow, U/H/C/T channels
Profile size: 018 inches to 6 inches in diameter
Production volume: prototype, low-volume, high-volume, large-scale ongoing
In addition to our extrusion capabilities, we offer an extensive list of finishing and secondary services, such as:
Surface finishing (e.g., gloss, metallic, and faux wood grain finishes)
Machining (e.g., drilling and milling)
Assembly (e.g., bonding, staking, and taping)
Packaging (e.g., packing and assembly)
Contact the Experts at Inline Plastics for Your Custom Plastic Profile Needs
If you need custom plastic profiles, turn to the experts at Inline Plastics. We've crafted custom profile profiles for over 75 years. To learn more about our plastic profile extrusion capabilities or discuss your requirements with one of our team members, contact us or request a quote today.