Manufacturer Of Custom Plastic Extrusions, Profiles, Tubing, Rods, Shapes, FDA Certified, U.L. & NSF Approved, Class VI Radiation Sterilizable, Custom Colors, Secondary Operations.
25+ Different Thermoplastics Made To Your Exact Specifications.
Custom Plastic Extruded Color Matching & Secondary Operations Available. Scroll down for a complete list of the materials available at Inline Plastics as well as more information about our capabilities.
---
Thermoplastic Materials
Inline Plastics, Inc. has been a leading supplier of custom plastic extrusions for more than 75 years. We work with more than 20 different thermoplastics, using them to produce a wide variety of profiles and shapes for use in manufacturing goods, parts, and components for consumer, commercial, medical, and industrial applications.
Our thermoplastic materials include (click on a material to learn more):
What are Thermoplastics?
A thermoplastic is a plastic polymer that softens when heated, which facilitates molding and shaping operations. When it cools, the material retains the molded shape unless it is heated again past its melting point. The unique chemical properties of thermoplastic materials allow for continuous recycling and remolding without compromising their basic properties.
Common uses of thermoplastics include:
Aircraft windows
Agriculture
Aquariums
Autoclavable medical devices, medical equipment and instruments
Auto parts (headlight lenses, body parts)
Battery cases
Computer cases and components
Consumer products
Hydroponics
Motorcycle helmet visors
Packaging material
Sports equipment
Toys (i.e. LEGO® blocks)
Viewing ports on submersibles
Types of Thermoplastic Materials Offered
Inline Plastics specializes in working with more than 20 different types of thermoplastic materials. Each type has specific properties that make it the best solution for meeting the unique needs of various applications.
ABS (Acrylonitrile Butadiene Styrene)
ABS plastic combines styrene and acrylonitrile to create a synthesized plastic. Its unique, non-toxic properties make it the ideal choice for consumer products that come into direct contact with human skin. ABS consists of three distinct monomers that make it strong, lightweight, flexible, versatile, and tough.
The smooth flowing consistency of ABS makes it an ideal choice for injection molding. Common products that incorporate ABS include cell phones, toys, microwaves, and other appliances.
HDPE/LDPE
Two of the most common types of plastic include high-density polyethylene (HDPE) and low-density polyethylene (LDPE). Though many of their properties are the same, each has unique characteristics and uses.
HDPE is more rigid and durable than LDPE. It comes in variations from translucent to opaque and displays excellent chemical resistance. Applications that use HDPE include rigid packaging containers, kitchen appliances and equipment, plumbing pipes, toys, and patio furniture and structures.
LDPE is not as rigid and comes in various clear and translucent forms. Its unique characteristics include flexibility, chemical resistance, and waterproofing. A wide variety of products come from the use of LDPE, including plastic wraps and films, flexible packaging material, injection molded parts, and grocery bags.
Rigid PVC
Polyvinyl chloride or PVC is a strong, rigid, low-cost thermoplastic with ideal fabrication and bonding qualities. PVC is easy to weld using thermoplastic welding equipment and supports adhesive and solvent bonding. Applications using rigid PVC include tanks, piping systems, and valves.
Flex PVC
Flex PVC is a variation of standard PVC that includes the addition of plasticizers to confer rubbery properties, making it softer and more flexible. Flexible PVC offer characteristics like strength, high resistance to abrasion, high clarity, good outdoor weathering, and availability in transparent and opaque forms.
There are many common applications for Flex PVC include:
Wire/cable jackets
Electrical cable insulation
Pool liners
Flooring
Garden hoses
Medical tubing
Rainwear
Inflatable products
Imitation leather
Signage and plumbing
Polycarbonate
Polycarbonate (PC) thermoplastics are amorphous and naturally transparent. Unique features of polycarbonate plastics include its high impact resistance and its capacity to undergo extreme plastic deformation without cracking or breaking. Its unique qualities make it an ideal solution for:
Bullet-proof glass
Eyewear lenses
Medical devices
Automotive parts
Greenhouses
CDs and DVDs
Cellular phone screens
Polystyrene (Crystal & High Impact)
High-impact polystyrene is the result of modifying crystal styrene with rubber to decrease brittleness and make it more impact-resistant. It is a low-cost thermoplastic with good dimensional stability and rigidity. FDA-approved grades, flame-retardant grades, and high-gloss grades used for extrusion are all available, making this an extremely versatile plastic. It is often used to make shampoo bottles, grocery bags, and bullet-proof vests.
Polypropylene
The semi-crystalline structure of polypropylene increases its durability, making it a widely available and comparatively affordable material used to make robust products and durable goods. Polypropylene is fatigue-resistant, has high tensile strength, and features good resistances to biological factors like mold/fungus, making it an ideal solution for applications such as:
Housewares
Utensils
Sportswear
Toys
Medical equipment
Laboratory equipment
Acrylic
This thermoplastic polymer has glass-like optical qualities, but with greater durability and improved protective capabilities compared to actual glass. Acrylic thermoplastics are known more commonly by brand names such as Lucite®, Perspex®, and Plexiglas®. As an impact-resistant glass alternative, acrylic applications often include goggles, lenses, windows, and other common applications for standard glass.
EVA (Ethylene Vinyl Acetate)
A copolymer of ethylene and vinyl acetate, this thermoplastic polymer is a porous elastomeric material with three times the flexibility of LDPE and the highest melting temperature of all thermoplastics. EVA is non-toxic and exhibits similar properties to LDPE, but features an increased gloss that makes it well-suited for various types of films, end segments, and semi-finished goods. Common applications include:
Foam
Hot melt adhesives
Wire and cable insulation
Extrusion coating
Solar cell encapsulation
Polyurethane (Ester & Ether)
This clear and flexible thermoplastic includes extreme versatility, abrasion resistance, and excellent wear properties. It remains highly elastic and impact-resistant at the hardest durometers and in extreme low temperatures. Polyurethanes are also highly resistant to grease and oil. Common applications for polyurethane include gaskets and shoes.
Thermoplastic Solutions From Inline Plastics
Thermoplastics provide a low-cost, recyclable material for a broad range of manufactured products used in almost every industry. Inline Plastics is a leading provider of thermoplastic materials, specializing in more than 20 different varieties of thermoplastic. Visit our thermoplastics service page for more information or request a quote for your project.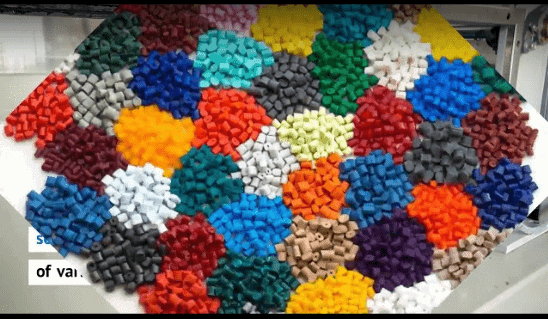 MATERIAL
APPEARANCES
FEATURES
CAPABILITIES

CLEAR, TRANSPARENT
TINTS OR TRANSLUCENT
TO OPAQUE COLORS
CAN BE COLORED

GOOD CHEMICAL RESISTANCE
GOOD CONTACT CLARITY
IMPACT MODIFIED
EXCELLENT TOUGHNESS GRADE
GOOD EXTERIOR PROPERTIES

ACRYLONITRILE
BUTADINENE
STYRENE
(ABS)

EXCELLENT TOUGHNESS
GOOD FORMABILITY
HIGH GLOSS FINISH
GOOD STIFFNESS
HIGH IMPACT STRENGTH
GOOD LOW TEMP PROPERTIES
GOOD CHEMICAL RESISTANCE
FLAME RETARDANT

SAWED
DRILLED
ROUTED
PUNCHED

ETHYLENE VINYL
ACETATE
(EVA)

TRANSLUCENT
CAN BE COLORED

GOOD FLEXIBILITY
GOOD TOUGHNESS
GOOD MEMORY RETENTION

SAWED
DRILLED
PUNCHED
SEALED

TRANSPARENT
CAN BE COLORED

UV GRADE
FDA GRADE
HIGH IMPACT STRENGTH
GOOD ELECTRICAL PROPERTIES
GOOD DIMENSIONAL STABILITY
HIGH RIGIDITY
EXCELLENT CLARITY
GOOD SURFACE GLOSS

SAWED
DRILLED
ROUTED
PUNCHED

MODERATE STIFFNESS
STRESS CRACK RESISTANCE
EXCELLENT ELECTRICAL PROPERTIES
GOOD CHEMICAL RESISTANCE
ABRASION RESISTANT
COST EFFECTIVE

SAWED
DRILLED
ROUTED
PUNCHED

EXCELLENT ELECTRICAL PROPERTIES
EXCELLENT TOUGHNESS
HIGH GLOSS FINISH
COST EFFECTIVE
GOOD DURABILITY

SAWED
DRILLED
ROUTED
PUNCHED

POLYPROPYLENE
(COPOLYMER)
(HOMOPOLYMER)

GOOD STIFFNESS
GOOD IMPACT STRENGTH
EXCELLENT TOUGHNESS
HIGH SOLVENT RESISTANCE
LIVING HINGE

SAWED
DRILLED
ROUTED
PUNCHED

CLEAR, TRANSPARENT
TINTS OR TRANSLUCENT
TO OPAQUE COLORS
CAN BE COLORED

GOOD STIFFNESS
GOOD CLARITY
LOW IMPACT STRENGTH
COST EFFECTIVE
EXCELLENT PRINTABILITY

POLYSTRYENE
(HIGH IMPACT)

CLEAR, TRANSPARENT
TINTS OR TRANSLUCENT
TO OPAQUE COLORS
CAN BE COLORED

GOOD STIFFNESS
COST EFFECTIVE
HIGH IMPACT STRENGTH
EXCELLENT PRINTABILITY

SAWED
DRILLED
ROUTED
PUNCHED

POLYURETHANE
(ESTER)
(ETHER)

CLEAR, TRANSLUCENT
CAN BE COLORED

CUT RESISTANT
UV GRADE
FDA GRADE – MEDICAL APPLICATIONS
CONTAINS INTERNAL LUBRICANT
HEAT RESISTANT
GOOD ABRASION RESISTANCE
LOW TEMPERATURE FLEXIBILITY
OIL RESISTANT
GOOD TEAR STRENGTH
GOOD TOUGHNESS
GOOD CLARITY

SAWED
DRILLED
ROUTED
PUNCHED
SAWED

POLYVINYL
CHLORIDE
(RIGID PVC)

CLEAR, TRANSPARENT
TINTS AND TRANSLUCENT TO OPAQUE COLORS
CAN BE COLORED

GOOD IMPACT STRENGTH
GOOD CLARITY
GOOD TOUGHNESS
EXCELLENT THERMAL STABILITY
EXTERIOR GRADE
INTERIOR GRADE
FDA GRADE
EXCELLENT PRINTABILITY

SAWED
DRILLED
ROUTED
PUNCHED

POLYVINYL
CHLORIDE
(FLEXIBLE PVC)

CLEAR, TRANSPARENT
TINTS AND TRANSLUCENT TO OPAQUE COLORS
CAN BE COLORED

GOOD FOR INDUSTRIAL APPLICATIONS
GOOD CHEMICAL RESISTANCE
FDA GRADE -MEDICAL APPLICATIONS
FLEX FROM 60 TO 90 SHORE "A"

SAWED
DRILLED
ROUTED
PUNCHED
SEALED